Hobbyweld Gas Supplier
Supplying Dorking, Cranleigh, Godalming,Guildford and Surrey
Trusted Hobbyweld Gas Supplier
As a trusted Hobbyweld gas supplier, our inventory boasts an extensive selection of gas mixtures tailored to accommodate various welding, brazing, and cutting applications. Whether you're handling stainless steel, aluminum, carbon steel, or mild steel, rest assured that you'll discover a suitable gas solution for your requirements.
Our products are conveniently available in three sizes. The Original and Plus cylinders come equipped with a standard industrial gas valve, while the Ultra cylinder offers added convenience with its built-in regulator. This feature not only streamlines your operations but also helps you save both time and money by eliminating the need for regulator replacements.
Our Hobbyweld Products
Hobbyweld 5
If you're engaging in MIG welding especially if you're working with sheet or thin sections of mild steel or carbon steel up to 7mm thick, we have the perfect solution for you. This bottled gas is specifically tailored to your needs, making it an excellent choice, particularly for vehicle restoration projects. It's designed for ease of use, providing fast travel speeds and minimal spatter, ultimately saving you valuable time on clean-up tasks.
Hobbyweld 15
If you are working with thicker sections of mild steel or carbon steel, ranging from 7mm to 15mm in thickness, this is an ideal option for you. This gas mix is well-suited for light trade applications, general fabrication, and repair work. Its universal gas blend offers impressive penetration and excellent weld quality, all while maintaining low fume levels and minimal spatter. It's the right choice for achieving top-notch results in your welding projects.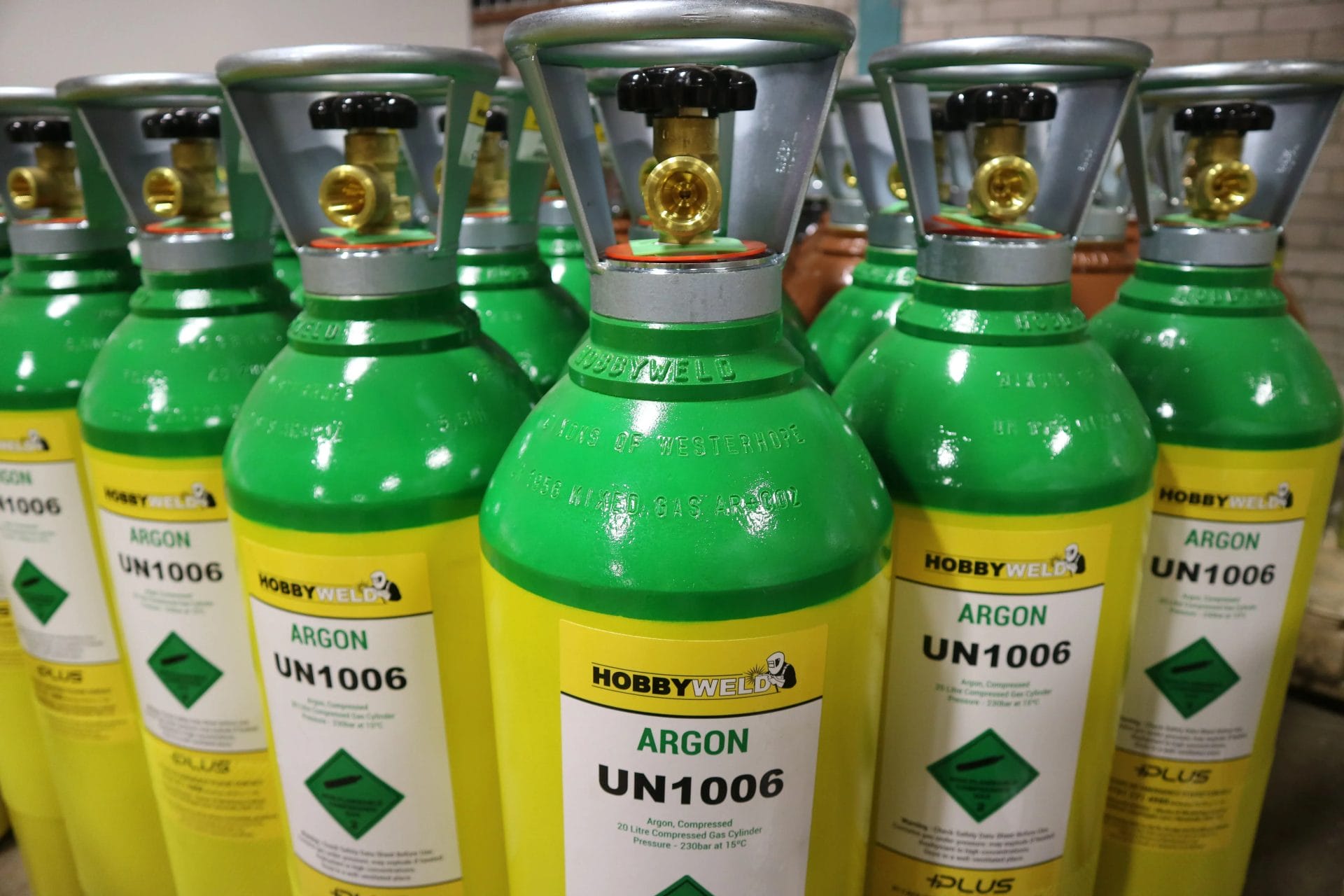 Pure Argon
This gas is commonly used for TIG welding various metals, including aluminum, carbon steel, stainless steel, and non-ferrous metals. It can also work for MIG welding aluminum with the right equipment. However, using it for both MIG and TIG welding may lead to quicker depletion of your gas cylinder. We offer competitive gas bottle refills as a trusted Hobbyweld gas supplier to keep you well-supplied for your welding needs.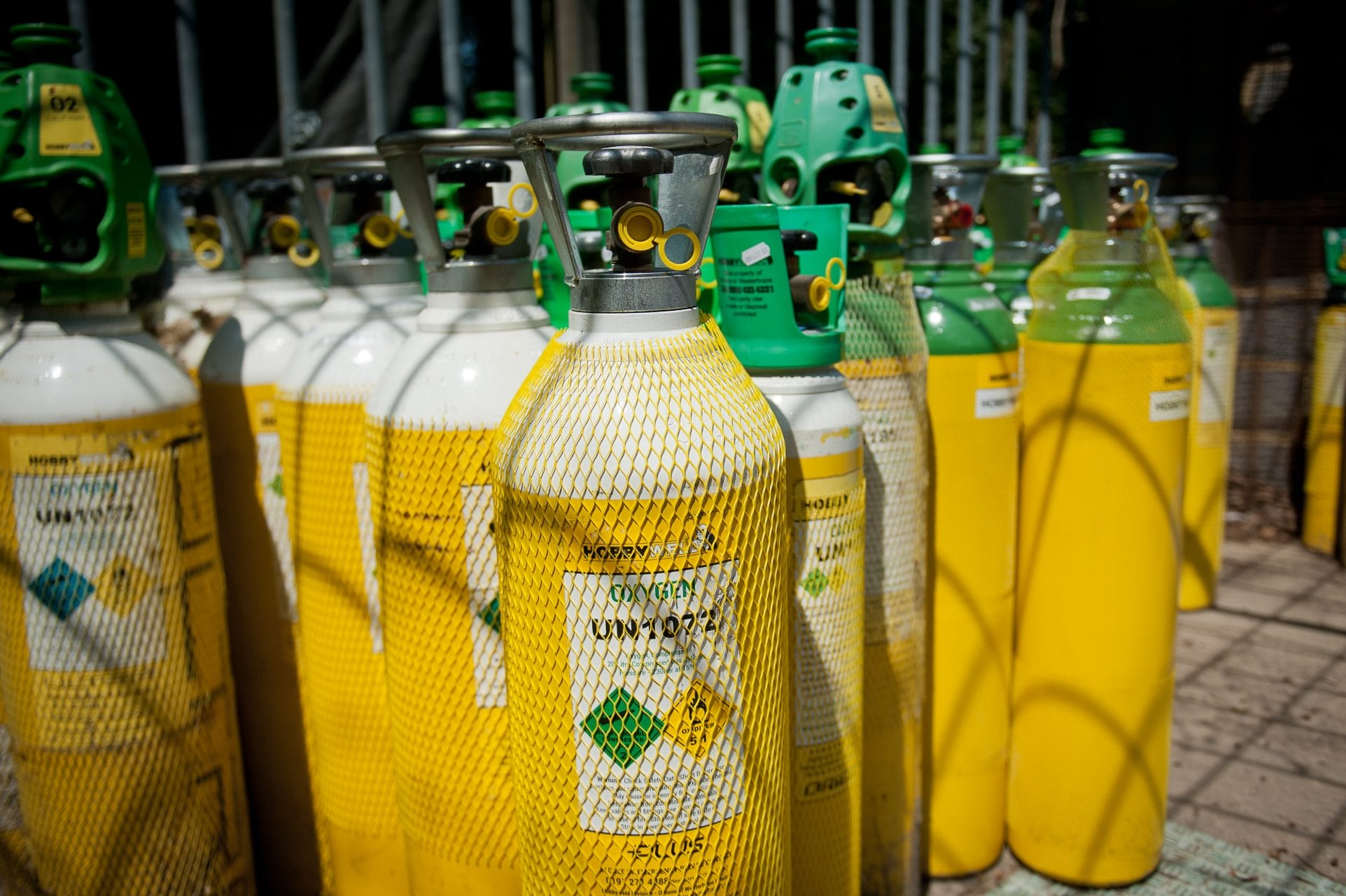 Oxygen
Oxygen is a fundamental component often used alongside a fuel gas to facilitate various applications, including soldering, brazing, cutting, and welding (acetylene only). The use of oxygen enhances the combustion of a fuel gas, resulting in a higher flame temperature, which is crucial for many industrial processes.
Acetylene
Acetylene stands out as the most efficient and high-temperature fuel gas available, making it the preferred choice for a wide range of processes such as gas welding, heating, cutting, and brazing. Utilizing acetylene can significantly enhance cutting speed, reduce pre-heat times, and bring about substantial improvements in the quality of your work. It's a valuable resource for achieving optimal results in various industrial applications.
Why Use Hobbyweld
Hobbyweld has gained popularity for its unique approach compared to many industrial gas suppliers. They do not impose rental fees for their gas cylinders. Instead, you pay a deposit for the cylinder, and there are no monthly rental charges. You only pay when you need a gas bottle refill. This setup makes Hobbyweld an excellent choice for DIY enthusiasts. It's especially beneficial if you don't use a cylinder regularly, as you won't be burdened with monthly fees for idle equipment. This flexibility also makes Hobbyweld an ideal option for those involved in light trade welding.
As a Hobbyweld gas supplier based in Surrey and covering the surrounding areas, we maintain a diverse inventory of gas mixtures suitable for welding, brazing, and cutting applications. Whether your work involves stainless steel, aluminium, carbon steel, or mild steel, we have the right gas to meet your specific needs.
Get In Touch
"*" indicates required fields